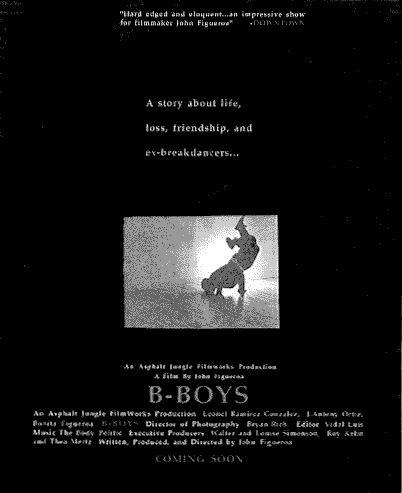 AN ASPHALT JUNGLE FILMWORKS PRODUCTION


A FILM BY JOHN FIGUEROA


B - B O Y S


STARRING LEONEL RAMIREZ GONZALEZ, J.ANTONY ORTIZ AND BONITA FIGUEROA

DIRECTOR OF PHOTOGRAPHY BRYAN RICH

SOUND ALESSANDRO CAVADINI

EDITED BY VIDAL LUIS

SCORE THE BPX

PRODUCED, WRITTEN, AND DIRECTED BY JOHN FIGUEROA

FEATURE LENGTH




REVIEW


"Penetrating the volatile juncture of art and race was the hard-edged and eloquent B-BOYS. This gritty and tragic tale of three breakdancers from the projects whose 15 minutes of celebrity in the 70's turns into a life sentence of alienation and ruined dreams is an impressive show for filmmaker John Figueroa. Here inner city destiny translates as turning 25 years old, with nowhere to go and "feeling like a fat fucked up old man", where the choices are between handing out flyers or getting a job dealing drugs from your local 'hood's equal opportunity employer. The flashing, episodic style underscores the aimlessness and fragmentation of these young lives."

Prairie Miller--DOWNTOWN

WHAT DOES B-BOYS MEAN?

B-Boys is recent years has come to mean a fan of hip-hop music and styles. This is not the original meaning. The "B" in B-boys stands for break, as in BREAKDANCING. Back in the late seventies/early eighties, a B-boy was someone who was a breakdancer. Our title comes from the original definition.



BRIEF SYNOPSIS


B-BOYS is the story of three formerly semi-famous breakdancers. They are in know in their late twenties and having a hard time facing up to adulthood and the realities of life in the housing project where they live. DANIEL, LEE, and TONE were the core of ABB (Amsterdam Break Boys). When we first meet them, they are in bad shape. Lee is dealing drugs; Tone is living off his girlfriends and Daniel is still desperately trying to jump start a dance and acting career, as well as dealing with a mother who is addicted to drugs. Things get worse! It seems Tone had an affair with Lee's mother (she becomes pregnant); Lee swears revenge. It doesn't matter how close they were in the past, he wants to kill Tone for what he has done. Enter Daniel. He tries to negotiate a peace between the friends, but it seems useless. The three of them are on a path towards violence, revenge and death.



PRODUCTION NOTES


B-BOYS was one of those multi-year take over your life productions. Shooting was stretched out over a very-very long period—as funding became available. It was shot is 16mm, in black and white. The structure of the film is very simple: long uninterrupted takes propel, carry the narrative forward and into very heavily edited, elaborate scenes that open up the film visually. The actual shooting of the production went very smoothly. Cast and crew worked for little or no pay above and beyond the call of duty to bring the story to life in a basic and honest way. Like all films, B-BOYS was impossible to complete, but we (the production company) are very proud of our little film.




HOME
All contents © 1999-2013 and Beyond! John Figueroa All rights reserved.
---